I was thirteen in 1968, transitioning between seventh and eighth grades, which was kind of a dead zone, really. Long gone was the heady anticipation of graduating from elementary school, yet I had a million years to go (it seemed) to finally transition to the new high school building and be "grown up".
My junior high was probably one of the oldest buildings in my little town. Back in 1910 or so, it had served as the high school ~ black and white portraits of stern long-ago high school principals adorned its sanitarium-grey walls. From the outside it resembled a prison.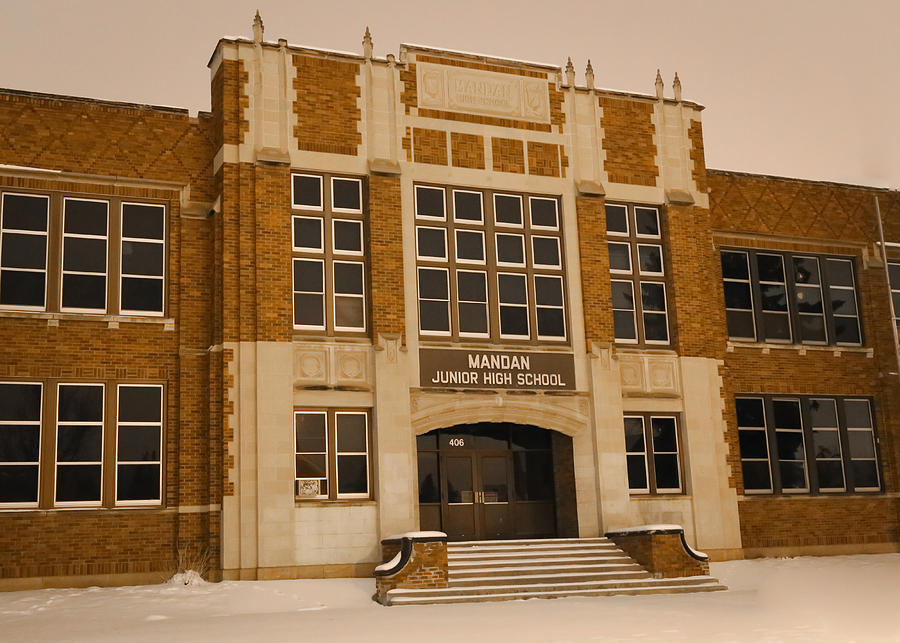 And yes, this was our gymnasium (minus the fallen plaster, which would have been dangerous for playing dodge ball):
I had to take the city bus to get (almost) to school, because the school district had not yet established bus service all the way out to my home (in its defense, there were only seven kids who lived in my neighborhood). Last stop on the city bus route was the old Prince Hotel, which was one of those post-World War I hostels that featured tufted burgundy armchairs with gold buttons, as well as spittoons in its lobby; and housed derelicts and Spanish-American war veterans who from their vestibule repose liked to ogle adolescent girls; and its lone desk attendant was older than death and just as lively.
The school's dress code prohibited pants (for girls, I mean), and our dresses were audaciously short; so on minus twenty-degree winter mornings, I'd alight the city bus at the Terror Hotel and commence my six-block tramp along slippery sidewalks in my mini-dress, faux-rabbit coat, plastic knee-high snow boots and no hat (hats were for sissies), clutching my US history and earth science textbooks and three spiral notebooks.
All to frost-bittenly arrive at a place I didn't want to visit for six-plus hours, but an argument my parents (such as they were) were not of a mind to debate.
My only saving grace was that I had a best friend, albeit one who crazily loved country music (one has to take their best friends wherever they find them). A year or so before, I was grooving to The Rascals and Three Dog Night, and now here I was, taking a crash course in the idiosyncrasies of honky tonk.
By now I pretty much got it. I'd figured out who I liked (Merle, Waylon, Tammy) and who I didn't (Glen, Conway, Sonny James). I'd long known who Buck Owens was, but I also learned about new artists like David Houston and Dolly Parton.
Unfortunately, 1968 was a weird year in country music. The worst singles hit number one, while (now) classic songs languished far below on the charts.
My best friend Alice and I agreed that this song reeked. I've always hated political songs, especially those that preach (and which ones don't?) Our main objection to this single, however, was that it was barely country. That, and the fact that it was played on the radio all the time. "Stab 'em in the back, that's the name of the game" ~ we enjoyed making fun of that line. Plus the whole, "Daddy hates Mommy and Mommy hates Dad" really didn't need to flow out of my speaker. Unless my speaker was spewing my own personal reality.
And this song garnered way more fame than it deserved. Again, there are so many things to hate about this song, but the old standby, "overplayed" is number one. I never realized until I studied more of Tom T. Hall's songs that he rarely wrote choruses. Sure, he had refrains from time to time; but I think the absence of a chorus has caused his songs to not age well. Listeners like something they can latch onto. Most people who sing along to the radio mess up the verses comically, but they always land the chorus.
Great songs like this only reached #10. Marty Robbins was a conundrum ~ difficult to pigeonhole. On the one hand, he truly loved his western ballads, and on the other, he could be truly soulful. It seems Marty never once gave an insightful interview, so fans will never know why he wrote the songs he did, or if he even ever thought about it.

I came to appreciate this song later. At the time I frankly wanted twin fiddles and steel guitar.
And this was only number twelve? I won't get into the whole history of me and Merle and this song, but you can read it
here
. If I hadn't looked at the 1968 charts, I would have sworn this was the number one single of the year.
Twenty-one? Really? Tammy had appeared on the scene in 1967 and had many hit singles before alas, "Stand By Your Man" became both a phenomenon and a punchline in '68. In hindsight, one can pinpoint when a promising career began to stagger downhill, although it's not Tammy's fault that she wrote a song everyone latched onto. The same thing happened with Lynn Anderson, who I loved until "Rose Garden" vomited onto the scene.

Regardless, number twenty-one is good:
I found a new favorite singer in '68. I feel like whenever I post a Faron Young live performance, I have to apologize. Faron was a superb singer, but a real drag to watch live. I somehow convinced my dad to drive us up to the State Fair one year to see Faron in person. Dad, and surely Mom, didn't want to go, and sitting in the bleachers during his concert, I wanted to crawl under my seat and hide in embarrassment. It wasn't (I don't think) that Faron was tipsy; I just think he didn't give a damn about singing a song straight. Maybe he'd been around so long, he said, "screw it". But trust me, his live performances and his recordings were eons apart. Nobody was better in that era.
This single wasn't from 1968, but I think David Houston deserves a mention. Nobody remembers him now (well, I do), but David Houston was huge. Not only did he have many top solo singles throughout his career, but he recorded hit duets with both Tammy Wynette ("My Elusive Dreams") and a newcomer, Barbara Mandrell. In 1968 alone, he had four top one hundred songs. As life marched on, I sort of forgot about David Houston, until I learned he had died at age fifty-eight from a brain aneurysm. Houston is one of those artists that this blog is about, because some of us don't forget.
Country duos suddenly became a thing around 1967-1968. There had been duets before, but I don't think the CMA's had a category for Country Duo before these two folks got together (before then it was "Vocal Group", which was rather awkward when only two people were involved). Then, suddenly, duets were everywhere. I remember hearing a song on the radio for the first time and saying, "I think that's Loretta Lynn and Conway Twitty!" And thus duos were off and running.
But it was these next two who dominated:
Here's another one of those forgotten artists ~ Wynn Stewart. Wynn was a pioneer in the Bakersfield Sound. Buck liked him; Dwight plays him on his "Bakersfield Beat" Sirius channel. I liked him, too, and my dad really liked him. Dad thought this next song was the bomb. It's not from '68, but Wynn had two top one hundred hits that year (and props to this video featuring the awesome Don Rich):
This is most likely my favorite song from 1968. Mom had shipped my little sister and me off to Texas to stay with my big sister while things were "disheveled" at home. I loved it there and didn't want to come back. We'd stay up 'til the early morning hours playing Scrabble, drinking Dr. Pepper, and listening to Bill Mack on WBAP. Johnny Bush was a newcomer and there was a lot of talk that he was trying to be the next Ray Price. I didn't care ~ I loved this song, and I still love Johnny Bush. Unfortunately, I can't find a decent live performance video, but here's the song in all its glory:
Overall, I wasn't too sad to leave my pop world behind ~ it was simply an adjustment. I liked the stability of having a friend with a semi-normal family, and I'd thrown my heart into country music. There was so much to discover ~ like traveling to a foreign country for the first time. In '67 I was still on the fence about music. By 1968, country had claimed me.