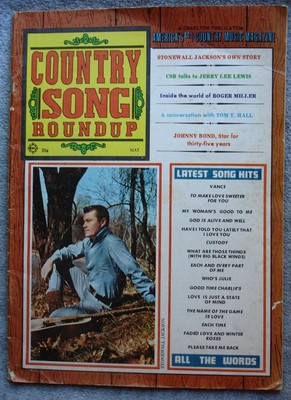 (I used to subscribe to this ~ it had song lyrics!)
By 1969 I could afford to buy albums. Up 'til then I'd been solely a singles gal, because I was penniless. Of course, I was barely a teen, so jobs were hard to come by. Due to family circumstances, however, my mom frequently enlisted me to man the motel office (during the times she was off looking for my dad). Travelers were taken aback by finding a little girl waiting to check them in, but I just did what needed to be done ~ shove the heavy metal bar across the credit card swiper, tear the little side receipt off the registration card and hand it over, answer the beeping switchboard, make change for the Coke machine.
Mom reluctantly determined that I needed to be paid for those nights, when I really needed to be doing homework, so my paying wage became seventy-five cents per hour. Before too long I had enough money saved to buy an album!
Sometimes albums were the only means of obtaining songs I really liked, because our little town's selection of country singles was limited to the top ten. At least JC Penney's basement had a middling country album offering. Often my tastes were dictated by my best friend Alice's inclinations. I was still a relative country music novice; still feeling my way around this new musical world. I liked Merle Haggard, Waylon Jennings, and Charley Pride (which essentially sums up sixties country music), but I was keen to spread my wings.
There was a pretty new gal on the scene, a beehived blonde who had teamed up with an old guy with a pale pompadour, and this was the album I bought by this duo:
There had been occasional duet pairings before Porter and Dolly, but none so successful or influential. In the "actual" country music world (as opposed to the faux New York/Hollywood lexicon), they were superstars. Any skim of country music charts from the late sixties will reveal a multitude of hit records by one or the other, or both.
In that vein:
Snigger if you will, but Carroll County Accident was an enormous hit. Granted, Alice and I weren't enamored with it ~ we made up our own, politically incorrect lyrics. But it could not be avoided on AM radio or ignored.
Then there was:
The album cover included a distant shot of Dolly's real-life husband, Carl Dean; the one and only time Carl allowed himself to participate in Parton's musical world.
I fell in love with the sweet voice of Lynn Anderson sometime around 1967. She'd begun moving away from her mom's penned songs (although Liz Anderson was no slouch ~ she did write "Strangers" after all) and was still signed to Chart Records until 1970.
This was an album of covers, but Lynn sang the hell out of them.
No live video, unfortunately:
Not my favorite Hag album, but with few exceptions (see below) I always bought Merle Haggard LP's. I did like this one:
Here's one I didn't buy, and my reasoning is this (if I can remember): I'd heard the single ad nauseam and I didn't need a live version of it. I liked studio recordings, although I never bought this as a single, either. Looking back, I think I had an issue with the title song. At fourteen I was far from sophisticated, but the track seemed almost mocking, and I wasn't on board with that. As for live Haggard albums, "The Fightin' Side Of Me" ranks up there with my favorites of all time, so I had no bias against live recordings.
I also didn't buy this one, and again I will explain. Johnny Cash is the hip country artist that non-country fans always cite. Granted, he had a network TV show in '69 that featured acts that rarely got television exposure, and he had a great gospel group performance (thanks to the Statlers) at the end of each episode. But real country fans weren't real Cash aficionados. All his songs sounded the same, with their thump-thudda-thump beat, over and over.
And speaking of overplayed songs, what could top this?
These last two will get all the kudos, naturally undeserved, but I choose to remember the LP's that touched me as a fourteen-year-old kid, newly seeping herself in country music.
Ahh, fifty years.
Really?