If non-country viewers of Ken Burns' "Country Music" are still with me after my
previous post
highlighting country album recommendations, congrats! You're ready to take the next step!
It's not necessarily that country music became more refined in the decades that followed the sixties, but recording techniques evolved and the music wasn't as "crunchy". That may or may not be a good thing, but to me it made all the difference between seeing a great bar band and dropping an opaque curtain to separate the audience from the artist.
Country albums in the nineteen sixties were a dull lot. Nashville decreed that the rundown of an album was, two hits (tops) and nine cover tracks. Female artists' albums were the most predictable. I got to hear "You Ain't Woman Enough" rendered by at least three vocalists other than Loretta Lynn. Tammy covered Loretta's songs and Loretta covered Tammy's. Lynn Anderson covered both. I bought a lot of greatest hits albums then, because anything else was a waste of scarce dollars.
The first concept album I recall discovering was "Let Me Tell You About A Song", by Merle Haggard. Naturally it took someone outside of Nashville to shatter the mold.
Some people like live albums; others despise them. Today a live album is filler, a contract satisfier. In the sixties, though, a live album was an event. It takes a deft touch for a producer to deliver a superior live product
and
capture the thrill of a once-in-a-lifetime happening.
Capitol Records' Ken Nelson achieved the ultimate in recording Buck Owens and The Buckaroos performing
live at Carnegie Hall
. In his
AllMusic review
, Stephen Thomas Erlewine wrote:
Buck Owens and the Buckaroos' 1966 concert at Carnegie Hall was a landmark not only for the band, but for country music: It signaled that it had firmly integrated itself not only into America's popular music mainstream, but also urban centers like New York. Buck and the Buckaroos had to deliver a stellar performance, and they did -- the group sounded like dynamite, tearing through a selection of their classic hits with vigor. Several decades removed from the performance itself, what really comes through is how musical and gifted the Buckaroos were, particularly Don Rich. For dedicated fans, it's a necessary addition to their collection.
When I was eleven, I didn't read reviews, had there actually been any. I just knew what I liked. I like, however, that the reviewer gives Don Rich his due. The true leader of the band, Don Rich was the glue. That's not to negate the pure perfection of Tom Brumley on steel and Doyle Holly's bass and stage presence. Willie Cantu was the Buckaroos' drummer on the album; the band's glue.
Don Rich, ladies and gentlemen:
Live "bar band" music:
Merle Haggard, not to be outdone, in 1970 recorded a live album at Independence Hall in Philadelphia. Officially titled, "The Fightin' Side Of Me", I will always know it as "Live In Philadelphia". I'd seen Merle with Bonnie and the Strangers live in 1968, a life-altering experience in many, many ways; but this album captured the experience of sitting in the first row of a Haggard concert, only flashier. Merle was on top of the world in '70, and rightfully so.
"The Fightin' Side Of Me"
was recorded on Valentine's Day, and has been derided by music critics -- which affirms my opinion of critics. To them every single solitary song ever recorded must have profound meaning, which is beside the point of music. It's as if reviewers are mathematicians ~ dry and humorless...and a bore to be around. As the saying goes (in my interpretation), if you can't do, nitpick. Any critic who misses the sheer joy in this album is missing the point of music.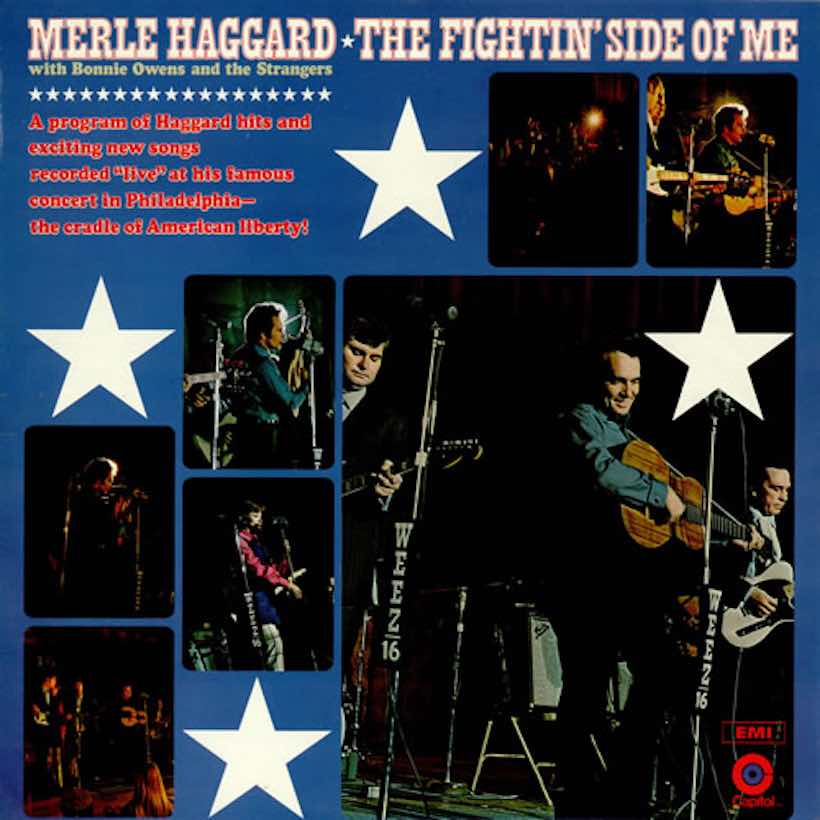 Before I offer a few tasty selections from the album, I want to give props to The Strangers, the best country band outside of the Buckaroos. Roy Nichols (who Merle judiciously stole away from The Maddox Brothers and Rose and Wynn Stewart, as Ken Burns' documentary series told us) was a singular lead guitarist. As
Merle said
, Nichols, (along with legendary guitarist Chet Atkins) "were the two most influential guitar players in [the last] century. Because of Roy, my career commenced, He was the stylist that set the pace of the records I recorded in my high period."
Norman (Norm) Hamlet, aside from Pete Drake and Lloyd Green, and let me add, Sonny Garrish, is the creme de la creme of steel players.
On this album, Biff Adams kept the beat, Dennis Hromek played bass, and Bobby Wayne played rhythm and sang harmony. Combined, these five guys created a country band pinnacle.
And then there was Bonnie Owens. One may not know that Bonnie was the ex-wife of Buck Owens. Relationships were unnaturally close in Bakersfield, I guess. That's neither here nor there. It's about time that Bonnie gets her due. Bonnie's contribution to Merle's success cannot be underestimated. When one hears Merle, they're subconsciously hearing Bonnie's spot-on harmonies. As a soloist, Bonnie wasn't strong; her forte was adding harmonic touches that shot a song into the stratosphere.
Bonnie (so she forgot the words?):
The Strangers (by the way, their solo album was superb):
The most oft-remembered segment of this performance is Merle's impersonations. In hindsight, the impressions were middling, but we loved them:
Everybody obsesses over this song ~ it was just a song; get over it. But it is the "official" title of the album, so here you go:
Country albums in the late sixties/early seventies didn't offer much. These two are different. They capture the sheer joy of live music. One can't go wrong buying these (if you can get your hands on them). Luckily, I have the originally-pressed LP's; not to brag.
These are two that sum up the decade for me.