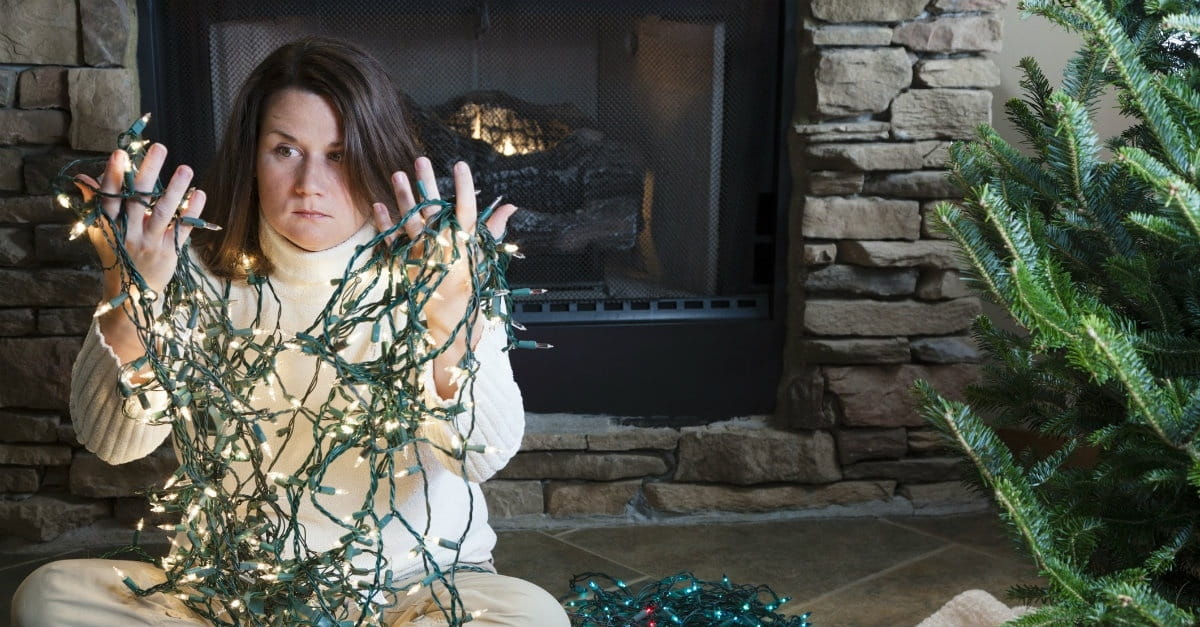 I'm not saying it was easier in my parents' day. Mom was expected to bake fifty different kinds of cookies ~ I think she even made a fruitcake one year (that no one, of course ate). Money was not plentiful and at various times, there were six offspring to buy presents for. I will say, though, that our decor consisted of...a tree. That's it. Dad had to untangle the same string of lights each year and curse when one bulb didn't work and he had to dig in his junk drawer to find a replacement. We bought a new pack of silvery tinsel each season and vomited it onto the tree.
There weren't little ceramic cherubs and red pillar candles and reindeer throw pillows scattered about the house. Stockings? I had three pairs of knee-highs, but I wore those to school. It wasn't so much a Christmas "season" as it was a "day". Of course I tingled with anticipation for weeks and combed through the Sears Christmas catalog as I lay prostate on the kitchen linoleum and circled my choices with a number two pencil (I never got any of those things ~ they were too expensive ~ but it was still fun to dream.)
What there wasn't was peer pressure. Christmas hadn't yet become a contest. In my neighborhood the timing of outdoor lights is entirely dependent upon who starts first. Then, like dominoes, house after house becomes festively lit. Humans are inherently competitive. Somehow, at some point, however, it simply got out of hand.
When one has little kids, Christmas is different. Enjoyment comes from doing everything to make the time magical. My kids didn't get two presents each ~ they got everything on their lists. What the heck? It was worth it. I not only baked cookies, but I made fudge and divinity, and caramels wrapped in wax paper. I pushed a shopping cart from Target's front door through knee-high snowbanks to my car trunk and dumped piles of cardboard-encased Lego sets and Transformers inside. I slipped a Christmas CD into my changer, filled a glass with wine and spent hours decorating my tree until it was perfect.
I set aside a day to write out cards and tucked school pictures inside. I may have even done photocopied newsletters once, until I received too many laughable missives and realized Christmas newsletters were evil lies that cleansed everyday life of reality.
I bought presents for every sibling and in-law and every nephew and niece, because I could. I scoured the Hallmark Store shelves for the perfect gifts for treasured co-workers. Every one of my employees got something that I, not the company, paid for. Because I wanted to do it. I stuffed gift bags with red and green tissue paper and diligently wrote out gift tags. I loved having the means to
give
.
Today? Like many companies, year-end at my workplace is insane. Christmas is an afterthought, once business gets done. Long hours, tons of junk food and caffeine; finally getting home and going to bed, only to toss and turn due to an overdose of adrenaline. Sleep dreamless sleep, stagger out of bed when the buzzer buzzes and start all over again.
My advice for the over-stressed?
Simplify. Cross off your buying list those who frankly would be just as happy with a hearty "Merry Christmas!" as they would with a trinket they'll toss aside once they've torn off the wrapping.
Don't go into debt to try to please somebody. You won't please them and you'll flagellate yourself every time you get your credit card bill.
Buy three rolls of wrapping paper at Walmart or Target and be done with it. Don't spend $5.99 for a gift bag. Nobody cares.
Don't...don't! send out Christmas cards! How many have you gotten this year? Nobody does it except for Great Aunt Hilda. If you want to reciprocate Great Aunt Hilda's thoughtfulness, dig through your closet for that half-used pack of cards from ten years ago and send her one. (I don't even possess stamps.)
All those trinkets are fun to take out of their boxes and place on the mantle, but they're hell to put away. Nothing ever tucks away smartly and you'll end up wrapping a piece of torn tissue around them and stuffing them in a cardboard box in the closet. Pick two, tops.
If your family expects treats, whip up a batch of no-bake cookies. Online recipes abound. Years later, they'll proclaim their mom (or wife) was the best baker ever.
Hang a stocking for your pet(s). They share your life more than real people do. Tuck a Milkbone or a baggie of catnip inside. They'll love you more than they regularly do.
Buy a self-contained artificial Christmas tree. Pop, pop; plug in the lights, and voila!
Do: Buy a small token for someone who's touched your life. They won't be expecting it, and they may even shed a tear.
For those who matter most, be attuned to them. What do they like? What do they spend their time doing? Can you gift them with something that enhances that? Search Amazon.
Write, if you feel comfortable doing it. A handwritten note from the heart will touch someone's life forever; but don't be fakey. People will immediately spot a fraud.
Do: Close your bedroom door and fire up the holiday songs you like best. Not only will they lower your blood pressure, but they may remind you of what the holiday is about. My recommendation is "Jingle Bell Rock", but you know you.
If, like me, you get one measly day off for Christmas, shop smart for your holiday dinner. Anything that's pre-sliced or can be fired up in the microwave is preferred. Again, nobody will care.
Wallow in nostalgia. I lost my best friend in 2002, but I have a recording of her singing, "Old Christmas Card", and I cry every time I hear it. Both my parents passed away in 2001, and "I'll Be Home For Christmas" stabs my heart, but it's important that I hear it once each year. If you've ever lost someone, you'll understand.
Breathe deeply. It actually helps.
I don't hate Christmas. I hate the unrealistic expectations that surround it. If I could just be me, I'd dim the lights, light a candle and play some tunes that remind me of the people who mattered.
Let's not forget what it's all about.