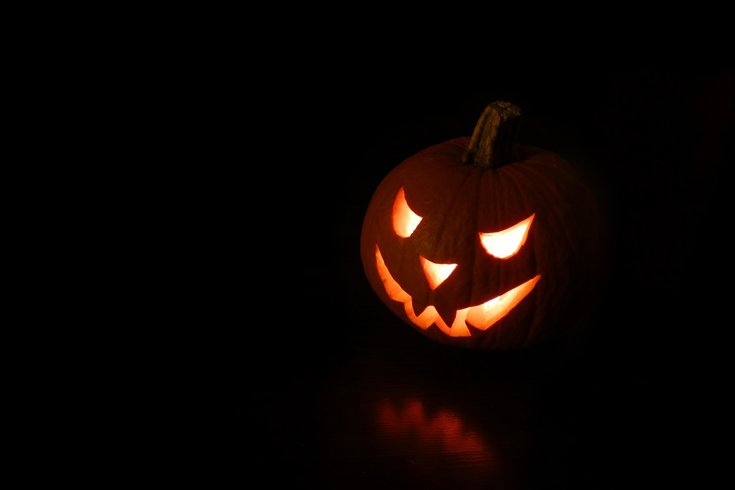 I was searching for Halloween pictures to bring to work for one of my department's holiday initiatives. Okay, it was sort of
my
initiative, but nevertheless, it was a good idea and an attempt to lighten the workplace mood a tiny bit. I've since learned that some people hate fun, but naysayers are everywhere. I'm choosing to ignore those people.
The thing some folks don't get about work is that every job isn't soul-quenching. For most of us a job is simply a means to an end ~ the end being a way to pay our monthly bills. We're not uplifted by our daily tasks, nor do we expectantly await never-delivered kudos. Work is essentially drudgery, but we deplete the large measure of our essence at work, so if we want to alleviate some of the slog by having a bit of fun, is that too much to ask?
It wasn't always this way. I used to work in an environment in which Halloween was almost a national holiday. Employees looked forward to the day. It started innocently enough, with a company announcement that folks could dress up. Before long, props got incorporated; and finally actual group performances became the expected norm. A cheap gold-plated trophy was the prize, and we worked damn hard to win it. It is correct to assume that no actual work got done on that particular day ~ in addition to performing for the roaming band of judges, we traversed the office to ogle other units' costumes and affirm our own superiority. Generally, too, there was a pot luck lunch involved, and mass quantities of fun-size candy bars.
I recall driving to work in the dark on Halloween morning hoping to hell I wouldn't get pulled over for some infraction and having to explain why I was dressed as a freak. I remember fluorescent work bathrooms and makeup being artfully applied by a willing accomplice. I remember the local second-hand store's costume basement and rifling through shelves to find just the right costume accessories. It was a quest ~ a holy mission. After all, that peeling-chrome trophy was within our grasp! Halloween was better than Christmas and Thanksgiving and Easter, rolled into one big ball of excitement.
As a naturally shy person, I'd always indulged my creative impulses with solitary pursuits ~ a bit of writing, photography, crafts. I spent my life itching for the next new thing that would allow me to create...anything. It's not that shy people don't crave attention as much as the next-door extrovert; it's just that we're mortified by the thought of being ridiculed. We're convinced we'd die if that ever happened. Creativity expressed behind my own four walls, therefore, was safe; though obviously not celebrated by the world at large.
In my first year of employment at the apple company (no, not "Apple"), a fellow cube-mate who I found loud and obnoxious approached me about doing a group Halloween ensemble. I don't know why I said yes ~ that wasn't like me. I don't even know why she asked me. Maybe everyone else had turned her down. Once committed, though, I wholly dedicated myself to playing my part. And guess what? I liked it.
(I'm Ace Frehley ~ third from left ~ I had no idea at the time who Ace Frehley was.)
By the following year I was a supervisor; thus I was obliged to join the other supes in their dress-up concept. We were still doing nothing besides showing up in our thrift store wigs and castoffs.
(I'm the faux blonde on the right.)
By the time 1997 rolled around, I was in charge, at least of my own division. And by then dressing up just wasn't going to cut it. In order to grab that trophy, one had to put on a big show. I canvassed my staff and someone said, "Hee Haw!", so that's what we did. We became hillbillies. We even had our own Minnie Pearl and an old man puffing a corncob pipe. Someone brought in an iron and ironing board. I was missing a tooth and I had a cap that spelled out, "CAP" and one of my shoes read, "left".
(Apparently I also carried a jug of apple cider.)
Things settled down a bit in '98. I don't remember if we were too busy to bother with Halloween much, or had run out of ideas. My staff expected a show, though, and I didn't want to let them down. My treasured friend Laurel and I became Sonny and Cher. We had no performance planned, but daily announcements turned into a Bob Dylan-ish a capella rendition of "I Got You Babe".
My last Halloween at the apple company became the ultimate blowout. I'd never before seen the movie "Grease" (truly), but somehow I found it that year and became enamored. That was it ~ we would turn our little corner of apple world into Rydell High School. Because I had short hair, I would be Danny Zuko. Lovely Laurel was thence Sandy. An employee's daughter had once done a Grease dance routine with her cheer squad, so she came into the office to teach Laurel and me and a phenomenal group of staff members the dance moves. We practiced in my office behind closed doors, accompanied by gales of laughter and quizzical glances from people passing by. We decorated our corner of the building as a county fair, and when the judges made their way into our area, we shocked the hell out of them with a spectacular performance of "We Go Together".
Needless to say, there was no contest that year. We walked away with that tarnished trophy.
Ahh
, Halloweens past, when we actually knew how to have fun.
I don't regret my late-in-life awakening to making an utter fool of myself. I'm rather proud of it.