I continued aboard the pop music train until around 1968. If one peruses the top hits of '68, it's apparent that music took a nosedive. I'm not sure what happened. Maybe The Beatles were tired. Maybe the Summer of Love ruined everything. Maybe my life was falling apart.
I don't remember how I came into possession of my battery-operated record player, but I carried it with me throughout my early teens. It was fun at first, but the fun abruptly ended once the batteries wore down. I'd be merrily playing "Thank The Lord For The Night Time" when suddenly Neil Diamond began singing really low and slowwww. I didn't have money to constantly purchase size D batteries and trust me, they weren't alkaline. My dad picked up a so-called battery charger somewhere, which barely masked the problem. Seems those Evereadys were just as tired as The Beatles.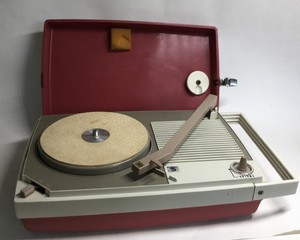 Still, in 1967, pop music retained a glint of joy. I continued to be a mostly singles buyer. The Turtles recorded on the White Whale label, whose '45 color was oddly blue, not white. Neil Diamond was on Bang, with its yellow label with a revolver atop shooting out the word "Bang". The Monkees' Colgems singles sported a prosaic red and white design. The Grass Roots' Dunhill singles were elegantly black. (I wonder what possessors of mp3's stare at while their song is playing.)
I had my favorites, like this one. I don't think The Turtles were ever taken seriously by the music biz people, but the execs sure liked the money that rolled in:
Lulu had one hit song, but it did land her a part in a movie, so she had a year. This really is beautiful:
I'm not sure what the deal was with Alex Chilton. Granted, he was only sixteen, but he acted like a reluctant fifth grader whose mom pushed him out on the stage. Nevertheless, this was one of my special songs from 1967:
This is the only song I ever liked by Herman's Hermits. Because they were a goofy band that essentially did novelty songs. I can't even stand to listen to Peter Noone on Sirius XM, because he's still trying to sound like he's sixteen, when in actuality he's pushing a hundred and five. However, this is a classy song:
This song is perfect for a twelve-year-old. It has that great poppy vibe, and (shucks) this performance doesn't feature Graham Nash, who went on to record some of the most boring songs in musical history about puppies and aprons and tidying up the house with his new, hipper, band, CSN or CSNY (whatever).
The Grass Roots were the first rock concert I ever attended. Of course, I was so high up in the bleachers that I could have just as well been at home peering through binoculars. Much like The Turtles, The Grass Roots got no love. I don't understand that, because they had a lengthy string of hits. (And yes, even though this video is fuzzy, I can pick out Creed from The Office.):
By 1967 I'd mostly relinquished my obsession with The Monkees. They'd been my lifeline when my family moved to a new town and I suddenly had zero friends. I wrote about it somewhere ~ oh, here.
I guess life had become a little bit better in some ways, and a hell of a lot worse in others. I never owned this '45, but my big brother did. As was my wont, I snuck into his room to play his records whenever he was away. I didn't know until recently that Carole King wrote this song. It's probably my favorite Monkees recording:
Thus ended my pop music phase. For a long while.
Next ~ immersing myself in country.